This solution provides driver information using roadway equipment such as dynamic message signs. A wide range of information can be disseminated including traffic and road conditions, closure and detour information, travel restrictions, incident information, and emergency alerts and driver advisories. It provides information to drivers at specific equipped locations on the road network. Careful placement of the roadway equipment provides the information at points in the network where the drivers have recourse and can tailor their routes to account for the new information.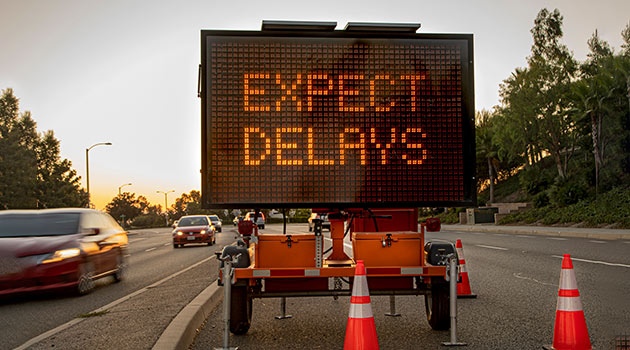 The solution also covers the equipment and interfaces that provide traffic information from a traffic management center to the media, Transit Management, Emergency Management, and Information Service Providers. A link to the Maintenance and Construction Management subsystem allows real time information on road/bridge closures and restrictions due to maintenance and construction activities to be disseminated.
In this way, it helps to use the road network capacity more effectively, reduce traffic density and save time and fuel during the journey. Additionally, it ensures the warning of the drivers about the changing road and weather conditions (accident, icing, fog, etc.) and contributes to the traffic and navigation safety.
The following are the components of Information Dissemination System.
Variable Message Signs (VMS) are electronic and intelligent display panels for road traffic management that allow text and graphic variable messages to be combined, resulting in a more effective means of controlling traffic. The VMS system can be integrated with other traffic control and management systems. It is an essential part of any next-generation traffic management system and can be easily customised to the specific needs of the region it is installed in.
Smart Public Address/Announcement System
High-quality public address and voice evacuation systems to help in dealing with security and safety challenges for smart cities by bridging communication between the Citizens and the Security force. A public announcement system is essentially required for highly crowded and highly traffic volume public places like Bus stations, Commercial Locations, Metro and railway stations, where audible messages need to be played repeatedly. Real time Public announcement system (PAS) is the need of the hour for the public. Voice announcement system translates the data into dynamic, naturally sounding voice announcements. These Automated announcements help to communicate with people in different parts of the locations accurately & quickly. IP based PA and Emergency communication system in ITMS provides service for same.
Smart environment sensors will gather data about pollution, ambient conditions (light, noise, temperature, humidity and barometric pressure), weather conditions (rain), levels of gases in the city (pollution) and any other events on an hourly and subsequently daily basis. It is for information of citizens and administration to further take appropriate actions during the daily course/cause of any event.
The environment monitoring has turned into a smart environment monitoring (SEM) system, with the advances in the internet of things (IoT) and the development of modern sensors. The sensing and connectivity elements offered by IoT devices can greatly contribute to reducing the damage that has been made to the environment